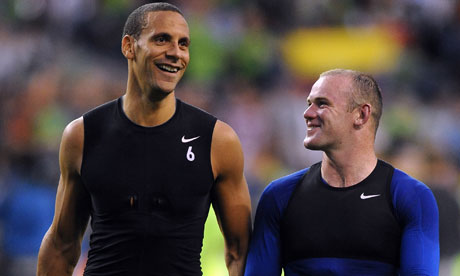 Rio Ferdinand has warned challengers for his Manchester United place that any player awestruck by the former England captain's standing at the club will be "shipped out".
The 32-year-old Londoner is in no mood to surrender his place in the team, but he says young challengers for his central-defensive position must not be fazed by reputation alone. "They can't be in awe of me," he said. "If they are, they will get shipped out. That is the way it is. Your desire has to be to play. I understand and respect that. That is why they are here."
This week, Ferdinand spoke enthusiastically about the abilities of Jonny Evans, Chris Smalling and the £17m new signing from Blackburn, Phil Jones.
But stepping aside to let them into the first team is a different proposition completely, in Ferdinand's view. "I remember what I was like when I was young," he said. "I remember looking up at Slaven Bilic, Marc Rieper, Alvin Martin and Steve Potts at West Ham. I was only a kid but I used to sit on the bench and think I should be playing. I am sure these guys think the same thing. If they have got anything about them, they should.
"They are all talented footballers and, I believe, Manchester United players. At some point I am sure they will take over the reins. But I am competitive and I don't want to be giving up my position to anybody. My task is to prove I am hungrier than them."
Having arrived on United's US tour late due to their participation in the European Under-21 Championship with England, Smalling and Jones are now expected to make their first appearances in Saturday night's encounter with the Chicago Fire at Soldier Field.
Sir Alex Ferguson has already made the point to Jones that Ferdinand has missed matches through injury during the previous three seasons, heightening the new man's chance of getting games.
Ferdinand has to live with that knowledge, knowing any problem will be seized upon with suspicion and worry, even when he only gets a tap on the ankle, as was the case in the final seconds of Wednesday's 7-0 rout of the Seattle Sounders.
though he claims there are no fitness concerns blighting his pre-season campaign. "My fitness is OK," he said. "I am nowhere near where I want to be yet, but we have three weeks left.
"Last season, I had no problems with my back, which was a good thing, but I did pull my calf which kept me out for a chunk of the year.
"Hopefully this time around I won't have anything like that and I can continue to play a consistent amount of games."
The new goalkeeper David de Gea is also set for his first United appearance, with many fans anxious to see whether the 20-year-old can match the heady expectations that have brought comparisons with Chelsea's Petr Cech from Ferguson himself.
The retirement of Edwin van der Sar has brought an obvious pressure to perform, whilst Anders Lindegaard and Ben Amos clearly have a vested interest in trying to make life as difficult as possible for De Gea.
Not that Ferdinand believes that should be an issue.
As he comes up to his 10th season at Old Trafford, he knows handling pressure is merely an extension of the job his team-mates have to perform.
"Over the years this club has been very successful," he said.
"In the last couple of years we have won trophies as well. It is great to see. But it does bring pressure.
"It is not overwhelming though. It is part of being a Manchester United player. You have to deal with all that stuff. It separates you from being a Manchester United player and not